Santos Hernandez 1921
Offered as Replica
(Courtesy of Guitar Salon International)
Santos Hernandez is quickly joining the ranks of Torres and Hauser I in terms of collectibility and historical importance. Santos became a very established maker early in his career when he became known as the builder of the Manuel Ramirez guitar of 1912 that was owned and played by Segovia. Many others have played his instruments, including Regino Sainz de la Maza (for whom the Concierto de Aranjuez was written), Eduardo Abreu, and the Romero family among others.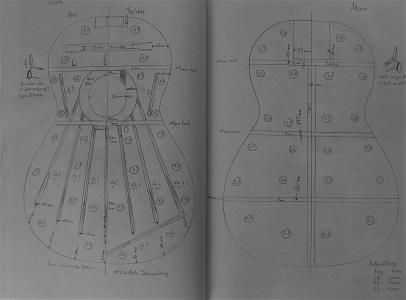 This particular guitar, built in 1921, is a gorgeous example of Santos' work, with beautiful materials and superb craftsmanship. The guitar features some finer decorative elements, including a lovely alternating red-green motif found in the rope-patterned purfling, which frames the rosette and encloses the binding. The construction is nearly totally based on the pattern of Antonio Torres, simply the the body size is bigger, according to the size of a normal modern guitar. In other words we can say, that with this guitar we are dealing with a big Torres guitar. You can note that on the very deep tuned resonances, which is typicall for most of the old masters, generating warm and round bases. Powerfull, fast responds,
clear and focused you can elicit this instrument all tone colours you are looking for.
A wonderful example of Santos at his best.
Fotos of the Original