Rodriguez 1976 (Ex-Romero)
Offered as Replica
(Courtesy of Guitar Salon International)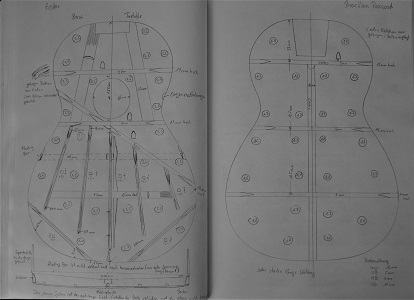 The "Churchdoor" instruments are the prized collectors' pieces for aficionados, fans and admirers of Miguel Rodriguez Jr., who built this instrument. They are immediately recognizable for their unique look – the grain patterns in the back and sides contrast between very strong yellow colored sapwood to the darker, browner heartwood, giving rise to a very dramatic and swirling texture. This guitar in particular has heavy sap elements, particularly in the sides – very striking and incredibly beautiful. Although the instruments featuring these distinctive sets of wood have lovingly been called "Churchdoor" guitars over the years, the origin of this name is still buried in legend, some insist that the wood was obtained from a centuries-old door of an old Andalucian church, while others prefer the more symbolic meaning that refers to the sound as having a large, powerful, cathedral-like presence. Either reference in spirit is true once one has had the opportunity to appreciate and experience the aesthetic beauty of the materials and the quality of sound of these great instruments. This "Churchdoor" was once the instrument of Celin Romero and later, John Dearman (of the LAGQ) before passing into the Cleveland collection.
This guitar was the most extraordinary guitar of the whole collection for me. Simply you can say it sounds as majestic as it looks. This instrument has it all, Power, Projection, very fast response but still more than sufficient sustain to modulate its tone. This guitar combines the old spanish sound with the important capability of modulation needed nowadays. A well balanced and coloured Instrument.Overwhelming.
So I am very proud to offer you this guitar as a replica, not only because the original is in private hand, but also bacause this guitar is simply magnificent.
Fotos of the Original